Happy holiday season, Tea Lovers! 
We hope you're taking full advantage of our BLACK FRIDAY SALE, on now! 

This is our favorite time of year, and the absolute best time to sit back and relax with a delicious cup of tea.

We've got plenty of great gifting options this year. Some are great for giving in person, others are delivered digitally and can be ordered last minute! 

See all our gifting options here. 

Happy Thanksgiving to our American friends! 

~Tea Runners
---
Customize Your December Box
Get more of the kinds of teas you love in your box by requesting customizations.
(Customization is not available to Amazon subscribers.)
Customization now closed for renewals. All new members can customize their first box on checkout.
---
Switch Boxes
If you would like to switch from one box to another - for next month only or for all remaining boxes - please click the button below.
All switch requests must be received before the 1st of the month.
---
Flowering Feng Qing Tea Cones
Almond Sugar Cookie Dessert
White Chocolate Peppermint
Caramel Toffee Pu-erh
Flowering Feng Qing Tea Cones
Almond Sugar Cookie Dessert
Creme Brulee Black
Ceylon Orange Pekoe
White Chocolate Peppermint
Cinnamon Orange Red
Ginger Lime Rooibos
Chamomile Medley
Flowering Feng Qing Tea Cones
Honey Aroma Shui Xian Oolong
Four Seasons Spring Oolong
Mini Wafer White
Honey Aroma Shui Xian Oolong
This lovely spring Shui Xian is an older oolong varietal grown naturally from 60-year-old tea bushes. This year's harvest has medium oxidation with a honey aroma taste.
This tea has a wonderful array of flavors - including honey, hay, brown sugar, and minerals - that you can enjoy over many steeps. A wonderful tea to explore for an oolong lover.
2022 harvest.

Ingredients: Oolong tea.
Origin: Fujian, China
Caffeine: MED
Caramel Toffee Pu-erh
Rich and velvety, this pu-erh is great for a pick me up and serves as a delicious dessert, all in one.

Notes of toasted pistachio and hazelnut are at the forefront while creamy caramel and buttered toffee sweeten the deal.

Excellent on its own or further richened with a dash of warm milk.
Ingredients: Pu-erh tea, natural flavor, blackberry leaf.
Origin: Multiple Origin Blend
Caffeine: MED-HIGH
Crème Brûlée Black
This lovely flavored black tea has all the taste and aroma of the indulgent dessert itself. Buttery, creamy, and a lingering aftertaste of caramelized brown sugar.

Dessert in a cup!

Ingredients: Black teas, crème brûlée flavoring, and marigold petals.
Origin: Multiple Origin Blend
Caffeine: HIGH
Mini Wafer White Tea Packet
These little mini wafers are made from pressed Shou Mei White tea from Fujian province, China. They are very tasty little white teas, rich and nutty with notes of cotton candy sweetness.

Each wafer is roughly 5.5 grams and perfect for 2-3 steeps in one session. They are very convenient, fresh, and delicious. Just tear open the package and steep!
Spring 2022 Harvest.
Ingredients: White tea.
Origin: Fujian, China
Caffeine: MED

Vietnamese Red Oolong
Vietnamese Red Oolong is grown high in the mountains. This medium-oxidized rolled oolong makes a golden amber liquor with the gentle sweetness of honey & toasted rice.
Make sure to re-steep and enjoy this tea several times.
Ingredients: Oolong tea
Origin: Vietnam
Caffeine: MED
White Chocolate Peppermint
This delicious caffeine-free tea tastes like an indulgence without the guilt. Green rooibos is given the holiday treatment with organic cacao nibs and a kiss of peppermint, beautifully balanced and rich.
Try it with warm milk and perhaps your favorite piece of chocolate on the side!
Ingredients: Organic green rooibos, organic cacao nibs, white chocolate peppermint flavoring and organic white cornflower petals.
Origin: Multiple Origin Blend
Caffeine: CAFFEINE-FREE
Chamomile Medley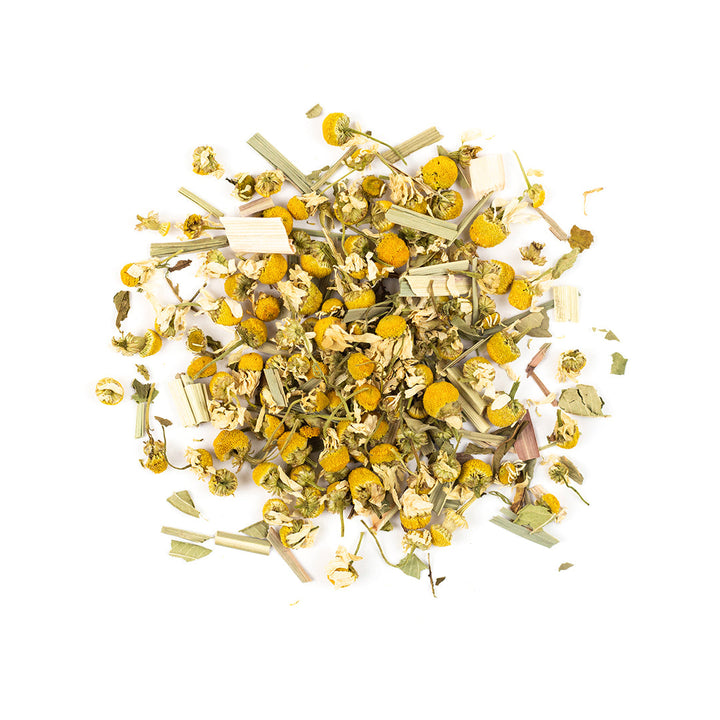 This soothing but striking chamomile blend is an expert pairing of Croatian chamomile blossoms, refreshing spearmint, lemon verbena, and the sharpness of lemongrass.

We love the floral notes of this tea balanced with the pungency of tangy citrus, a welcome surprise to the palate.

A great way to end a rich meal, or calm the senses on a busy afternoon.
Ingredients: Chamomile flowers, lemongrass, lemon verbena, spearmint.
Origin: Multiple Origin Blend
Caffeine: Caffeine-Free
Ginger Lime Rooibos
This delightful caffeine-free blend of ginger and lime is one of our most popular herbal teas. It is bright and zesty - perfect for anytime of day.

Fragrant lemongrass and Australian lemon myrtle lend citrusy complexity to this spirited rooibos blend.
Ingredients: Green rooibos, ginger, lemongrass, lemon myrtle, licorice root, essential lime and tangerine oils.
Origin: Multiple Origin Blend
Caffeine: CAFFEINE-FREE
Four Seasons Spring Oolong
This ball-rolled oolong tea comes from Taiwan's central highlands and has a tropical and very floral bouquet. Its elegant aroma swirls with fresh gardenia with a lingering pineapple taste and notes of juicy mango. Enjoy this golden green cup on its own to truly appreciate its multiple layers.
Ingredients: Oolong tea.
Origin: Nantou, Taiwan
Caffeine: MED
Ceylon Orange Pekoe
This beautiful black tea is grown in the fresh mountain air, brilliant sunshine and abundant rainfalls of the southern Sri Lanka.
It has a strong, fresh black tea aroma and brews a full-bodied cup. We love its classic and bold personality with an elegant smoothness that lingers on the palate.
An outstanding orange pekoe that is at once traditional and refreshingly modern.
Ingredients: Black tea.
Origin: Sri Lanka
Caffeine: HIGH

Cinnamon Orange Red
Honeybush is a close cousin of Rooibos, cultivated in South Africa's Eastern Cape region. It has similar characteristics to rooibos, but a little sweeter with a fuller mouth feel.

Cinnamon Orange Red brilliantly offsets the natural sweetness of Honeybush with the zest of orange peel and cinnamon spiciness. The bonus is the gorgeous smell it wafts through the house while it brews.
Ingredients: Honeybush, cinnamon, orange peels, natural flavoring.
Origin: Multiple Origin Blend
Caffeine: CAFFEINE-FREE
Flowering Feng Qing Tea Cones
These delightful tea cones are hand-made from the highest quality Feng Qing Dian Hong black tea from Yunnan, China.
Buttery, malty, and naturally sweet, this deliciously fun tea is meant to be steeped multiple times.
Watch your tea cone unfurl like a flower when brewed; a perfect fit for our chic glass teapots.
Spring 2022 Harvest.
Ingredients: Black tea.
Origin: Yunnan, China
Caffeine: MED-HIGH

---
Additional Customization Options
Blue Mountain Black
A strong pure black tea that embodies the unique and worldly flavor profile of Nilgiri, India.
Cinnamon Plum
A juicy and full-bodied herbal blend that's like biting into a roasted and caramelized plum.
Cranberry Spice
This herbal tea was a big crowd-pleaser in our warehouse. Fruity and spicy.
Gingerbread Black
A seasonal black tea blend that creates the joy of gingerbread in a cup.
Green Tea Mint
A very refreshing blend of roasted green teas and peppermint! Will remind you of chocolate :)
Herbal After Eight
A caffeine-free herbal tea inspired by the chocolate peppermint treat!
Hibiscus
Citrusy and tart, straight hibiscus makes a delicious herbal treat. Known as karkade, it's very popular in Africa!
Keemun Black
The famous Chinese black tea! Fiery amber red liquor, rich and toasty with mineral notes.
New Moon Darjeeling
A 2022 2nd flush Darjeeling with notes of muscatel and ripe plum
Valerian Dream
A masterful blend of exotic spices create this relaxing caffeine-free treat.
Wu Liang Hong Mao Feng Black Tea
A aromatic and woodsy mao feng tea from the Wu Liang Mountains. 2022 harvest.
---